Basement Wall Products Near Rome, Utica, Syracuse
Upgrade Your Basement Walls For A Brighter, More Beautiful Space
Are you tired of looking at those ugly concrete basement walls? It may be time to upgrade!
Even if you're not interested in finishing your basement, you can still opt for a fast, cost-effective wall product that will drastically improve overall appeal.
Each of our basement wall finishing products is designed specifically for the basement environment and can stand up to the humidity and moisture that passes through basement walls.
We offer free basement wall quotes to homeowners in our New York service area. Contact us today to schedule your inspection!
Installing Basement Wall Products
Conventional basement finishing products are often inappropriate for the basement environment. Materials such as drywall, latex paint, wallpaper, wood, and fiberglass resins all contain organic materials that can grow mold and be damaged by moisture.
Basements are unique spaces with their own sets of challenges--what works upstairs will not necessarily work down here. Our basement wall products install in one to two days, permanently upgrading the look and feel of your basement. Our basement walls are compatible with our complete basement waterproofing system for a dry, healthy, attractive space. If you're interested in upgrading your space, but aren't interested in investing in a full finishing, these are the basement products for you!
For a free basement wall quote, call or e-mail us today! We proudly service New York, including Rome, Utica, Syracuse, Watertown, Auburn, Cicero, Cortland, Oneonta, Jamesville, Oswego, Knoxboro, Skaneanteles Falls, Marcy, Hastings, Manlius, Bouckville, Skaneanteles and nearby.
Basement Wall Options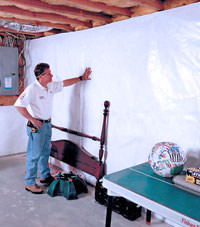 CleanSpace® Wall Vapor Barrier
If you're interested in an easy way to upgrade your basement walls, there's nothing quite like the CleanSpace® Wall System. Like our other wall systems, it can hold back water vapor passing through your foundation walls, directing it to your sump pump. With anti-microbial protection called UltraFresh built right in, no mold or mildew will grow on the CleanSpace!
If you have stone walls, exposed ledge in your basement, or dirt floors, CleanSpace® is the perfect solution! With its 25-year warranty from rips or tears, you can be sure it's strong enough to do the job!
Advantages of CleanSpace® Wall:
Durable 20-mil, Polyester-cord Reinforcements
Flexible to Cover Irregular Walls
White Finish Brightens Up Your Basement
Great for Stone Walls
---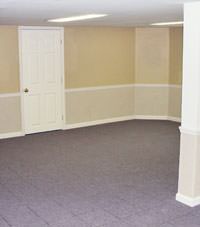 EverLast™ Finished Wall Restoration System
If your basement has been finished with drywall, it could be seriously damaged during a flood. Once drywall is damaged by water, mold is not far behind. But it's just the bottom of the walls that need replacing, right?
We can repair your damaged basement walls permanently with our Everlast™ Finished Wall Restoration System. This system works great with our other products, including our drainage system and basement flooring. The washable surface looks great for years to come and includes a 50-year Warranty. What could be better than that?




Advantages of our EverLast™ Finished Wall Restoration System:
One Contractor to Waterproof & Fix Your Walls
Waterproof, Mold Resistant, Washable & Strong
Decorative Plastic Baseboard & Chair Rail Included
Never Needs Paint
---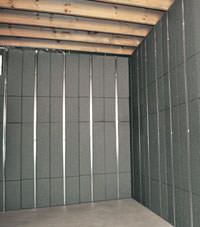 Basement To Beautiful™ Insulated Wall Panels
Our insulated basement wall product is a fantastic way to get your basement ready for your own custom wall paneling. Designed with our unique, advanced SilverGlo™ insulation, these walls meet and exceed building codes for insular quality.
What makes SilverGlo™ so great? An innovative, closed-cell, graphite-infused insulation, that's designed to be 24% more energy efficient than competing foam paneling. This gives it an industry-leading R-13 insulation -- one that will not rot or soak up water.
The unique design of Basement To Beautiful™ panels uses metal studs that are separated from your cold, concrete walls with metal studs, avoiding "cold spots" on your basement walls that would otherwise be caused by thermal convection.



Advantages of our Basement To Beautiful™ Panel System:
Superior to Comparable Insulation By 24%
Prepares Basement Walls For Finished Paneling
Closed-Cell Insulation Will Not Soak Up Water Like Fiberglass
Does Not Include Thermal Breaks In Design Like Other Metal Stud Walls
---